While all-star cheer is a team sport, individual athletes can benefit from group classes. Also, there are so many benefits to our sport, we want to be able to offer training to athletes without the full season commitment. We work hard to train cheerleaders, dancers and gymnasts to increase their skills.
Anyone is welcome to take a class, you do not need to be on a current team! Availability for sessions offered is based on registration.
*Terms and conditions subject to change
Summer Classes will start the first week of June and go through August. We look forward to working with new and current athletes!
Summer Class Schedule
Sundays 1:00pm – 1:45pm Beginner Basics (4-7) $30/month
Sundays 2:00pm – 2:45pm Beginner Basics (8+) $35/month
Sundays 3:00pm – 3:45pm Advanced Basics $40/month
Sundays 4:00pm – 5:00pm Handspring 101 $45/month
Sundays 5:15pm – 6:15pm Flipping Out $45/month
Thursday 6:00pm – 6:45pm Flex & Condition $40/month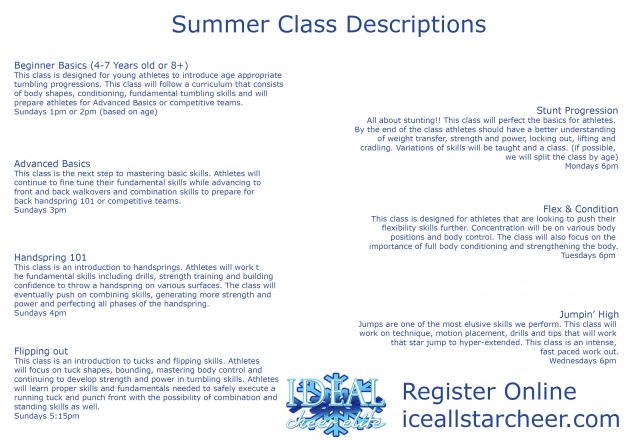 Pre-School Tumbling is for athletes ages 3-6 years old. This class will happen two separate times a week. Athletes will learn mind-body awareness as well as basic gymnastics skills. These skills include but are not limited to forward rolls, candlesticks, handstands and cartwheels. Athletes will begin working strength and flexibility to assist their growth in the sport.
Flex / Condition is a core class for athletes ages 8+. This class is made to increase flexibility and overall strength that will result in a stronger, more capable athlete. While this class will help flyers with body positions, it will have benefits for any athlete.
Cheer 101 is a crash course in all-star cheer, perfect for anyone new to cheer or for anyone looking to strengthen their basics. This class will go over the basics of stunting, tumbling, jumps and dance. It is a great opportunity to try out our program without the full season commitment. This class is primarily for athletes 8-14.
Ideal Tumble is our all levels tumbling class! This class is ideal for ages 8-18, for athletes with some experience in tumbling. Athletes should understand a basic handstand/forward roll and be able to take direction without much supervision. This class will utilize a high intensity warm up and stations to assure minimal time "waiting in a line" and maximum time building skills.
High School Prep is perfect for any athlete hoping to make their high school team. This class will go over the necessary requirements to be on a local high school team; from stunting and tumbling, to jumps, chants and cheers. Whether you're a first season hopeful, or looking to be a stronger cheerleader this class is perfect for you.
*There is a $20 annual registration fee for non-team members.